MTI has been integrating its marketing, production and development in order to further strengthen services and garner even greater customer satisfaction. In addition, we are reinforcing our sales promotion channels to enable greater outreach to customers. In these ways, the company is proving itself an ever stronger market contender.
(1) MTI's marketing features
Planning & developing apt services, effectively promoting
MTI strives to respond to customers' changing needs. We utilize the ISO's "people-centric" design and conduct interviews with customers to identify core needs. In this way we are able to plan and develop services that elicit satisfaction and win approval.
Furthermore, our promotional efforts strive to raise awareness regarding our services. We carry out promotions based on tentative assumptions, thoroughly evaluate the results, and conduct promotions best suited to the service. Investing efficiently in the media that prove most cost effective for each particular service further enhances our business performance.
(2) MTI's production features
Web and app creation using MTI's proprietary UX design process.
UX ("user experience") is an important concept in determining whether a product really answers to customer demand by asking in how fun and feel-good way it does it. It is consciously incorporated into the design process to in order to create web content and apps that customers will keep coming back to.
Even after service launch, we have a system by which we continue to look for areas of a service that might be difficult to understand or use, and constantly and speedily address issues regarding customer needs. We also pay careful attention in the management of quality, speed and cost issues to the manufacturers' production methods, incorporating these considerations into the product specifications.

User testing involves identifying causes by monitoring information and user actions.
(3) MTI's development features
The all-round development system supporting MTI's smartphone services
MTI's 500-member strong system of development teams produces a wide variety of different services. Speed is also a development requirement, so we use "agile development"* as an optimum method of responding swiftly and expeditiously to changes in the business environment.
Moreover, we strive to optimally combine the latest development methods with the skills we have acquired over many years of constant product verification. This results in reliable services, and further ensures provision of those services to the customer, trouble-free, 24 hours a day, 365 days a year.
*Agile development means a short-cycle, spiral-type production process that responds to changes in the environment nimbly and flexibly.
(4) Sturdy sales promotion channels
The No.1 network in for delivering smartphone services to customers nationwide
MTI is the largest scale smartphone service provider in Japan, with the most affiliate cellphone shops nationwide. Our real affiliate network promotes the sale of MTI and other companies' products to customers right throughout Japan.
Channels for signing up smartphone service users are limited, yet this ability to attract new paying subscribers contributes more than anything else to its success. As well as being a driver for expanding MTI's paying subscribers for smartphone services base, the network also serves to help expand numbers of paying subscribers for other companies' smartphone services.
Detailed support system for cellphone shops
The number of real affiliate stores is expanding, and further expansion depends, too, on constant sales promotion that generates customer satisfaction. For this purpose MTI deploys over 100 employees in cellphone shops in prefectures, cities and towns nationwide, providing steady, reliable day-to-day support.
Shop sales manuals, point-of-purchase promotion, and shop front presentation is all addressed in detail, in order to present appropriate services to customers in as readily understandable a way as possible and ensure the kind of business support best able to ensure long-term customer use of products.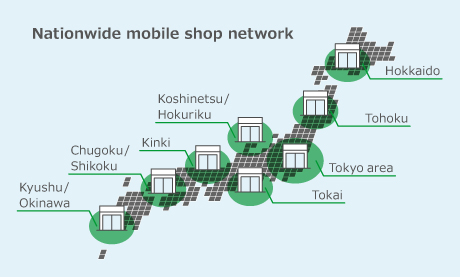 ---